Resume of Andrew Lovett, M. Ed.
535 44th Avenue
San Francisco, CA
94121

(415) 302-2152

alovett@liminus.com
Objective
To empower learners through tutoring in neurohumanism and the humanities.
SUMMARY OF QUALIFICATIONS
Founded Liminus Learning, the Bay Area's resource for applying neurohumanism to academic instruction
Master's Degree in Education, Stanford Teacher Education Program Magna cum laude Bachelor's Degree in English from Harvard University
Taught middle school language arts and history at the Marin Horizon School
Taught high school English at Sequoia High School's Academies Program
Founded Summerbridge Cincinnati, an academic enrichment program for middle schoolers
CA teaching credential, Stanford Teacher Education Program
EMPLOYMENT HISTORY
| | | |
| --- | --- | --- |
| 2002-2009 | Teacher, language arts and history | Marin Horizon School |
| 2001 | Teacher of creative writing | Marin Horizon School |
| 1999-2001 | Trainer | The Story Net, San Francisco, CA |
| 1997-2001 | Director | Liminus Learning, Mill Valley, CA |
| 1996-2007 | Instructor | Streetside Stories, San Francisco, CA |
| 1994-1995 | Research Coordinator | Young Imaginations, San Rafael, CA |
| 1993 | Director | Summerbridge Cincinnati, Ohio |
| 1991-1992 | Teacher, language arts | Sequoia High School, CA |
| 1990-1991 | Teacher, language arts | Menlo-Atherton High School, CA |
REFERENCES
Available on request.

Contact
Please include your email address or phone number.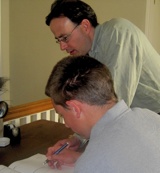 "Thank you so very much for all your attention, coordination, and collaboration. You took on a larger role than simply a tutor.... You spent time getting to know my son and to understand his learning style as well as communicating with his teachers on assignments and expectations.
You developed good insight into his personality as well as his areas of strength and weakness. You worked to develop his individual skills set and assisted him in exploring alternative ways to approach his tasks. In turn, this led to greater self-confidence and independence, which is really the true goal."
— from a parent of a Liminus student